Mary B. Mitchell and Gene Conversion
George W. Beadle in 1949, with an unnamed assistant who could plausibly be Mitchell but might not be.
I was reading up on gene conversion this week, and vaguely recalled that a woman discovered it, so I looked her up for the
Zuskateer Party Calendar
of women scientists' birthdays. Although I found her name easily enough - Mary B. Mitchell - and the
1955 paper
in which she presented her results was available online, I found no birthday, no photo, and no biographical details except that her birth name was Houlahan.
There wasn't even a description of her discovery on any blogs.
Unto the breach! You can count this as an early entry for
Ada Lovelace Day.
It may
surprise you
how good an understanding of genes scientists managed to achieve before they had any clue
what exactly genes were.
These days, if you choose your organism right, you can practically treat genes like Lego bricks, and break'em apart and stick'em back together how you please. But in the first half of the twentieth century, scientists worked out a lot about the nature of heredity, genetic variation, and the organisation and transmission of genetic information, largely by Counting Things.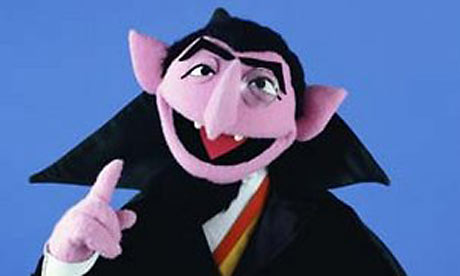 22,747 mutants, ah ah ah. Mitchell counted over 100,000 spores for her gene conversion paper.
Fly-counters like
Morgan
are probably more famous, but one could argue that
foost
-counters like
Beadle
made even greater contributions. Mitchell worked in Beadle's lab, and she noticed something odd.
Photo by N. B. Raju, nicked from
here.
This is the bread mould
Neurospora,
the fungus Mitchell worked on, under the microscope. Those things that look like strings of beads are groups of spores that have all come from one parent cell. Spores are made by
meiosis
- the same process that makes egg or sperm cells in people - and usefully, they're all held together so you can see which cell made what spores. Mendel's laws state that if the parent cell has two kinds of a gene, they should be doled out evenly to the spores. That's what's happening in the picture above: each set of eight spores is made up of four that are green and four that aren't.
Except it wasn't always true. Very occasionally there were six of one and and two of the other. It seemed Mendel's laws had some kind of loophole.
There were attempts to explain away this observation. Most blamed experimenter error, or insisted that two genes rather than one were involved, which would allow for a six to two split (if you're a biologist and can't see how, you should scribble your Punnett Squares right now and work it out). Mitchell's paper shot these doubts down: her experiments are meticulously controlled and double-checked at every stage to refute possible counterarguments. In her fungi, rarely but surely,
a gene would sometimes change to match another one.
"Blimey," I hear you exclaim sarcastically, "how riveting. And how extremely surprising that a monk in 1850 knew a bit less than a professional geneticist in 1950." Sark ye not! Mitchell's results
really did matter and they still do.
First, the findings lit the way to a better molecular understanding of the way in which genes are dealt out into sperm or eggs (or spores) and shuffled from generation to generation. Mitchell's discussion says:
It might even be supposed that the event which gives rise to crossing-over took place in each case... but that this event results in an actual exchange in, statistically, only half the cases.
This was startlingly prescient; explaining why is a whole 'nother post which I might write if there is general clamour for it, i.e. someone asks nicely.
Secondly, gene conversion has evolutionary implications that are still being argued over. It might affect the evolution of whole sets of similar genes, or the repetitive bits of our DNA (which is nearly all of it).
My third reason is more nebulous, and more tenuous, but I think it holds some water. Mitchell and the other founding mothers of
non-Mendelian inheritance
(Ruth Sager and Barbara McClintock - and maybe we can count Nettie Stevens) started people thinking about why genes are inherited the way they are, and what might happen if genes
didn't
play by the usual rules. They provided illustrative examples, conceptual frameworks, and probably a bit of inspiration, to the evolutionary biologists of the following few decades who were developing theories that centred on conflicts between
selfish genes.
So I'm particularly saddened that we don't know her birthday. I'd certainly celebrate it lavishly: I suspect she helped to kick-start my own field.
Labels: Blaming, Boffinry, Things I Like